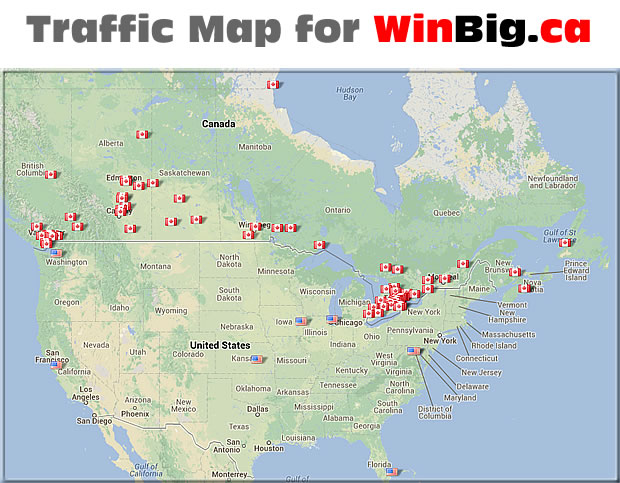 You can watch the web traffic on WinBIG.ca in real time.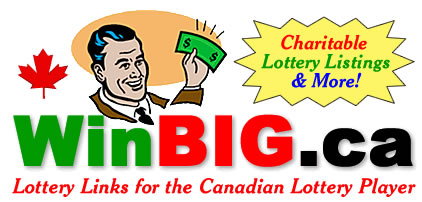 Canadians from all over North America are coming to WinBig.ca on a daily basis for their favorite lotteries, winning numbers, tips and stories. We have many reasons people think we are the BEST.
WinBIG.ca is easy to remember.
WinBIG.ca ranks high in search engines.
We have

WON

a dream home in Canada. We know first hand the excitement when WINNING a charitable lottery. Other sites have NOT been able to match this.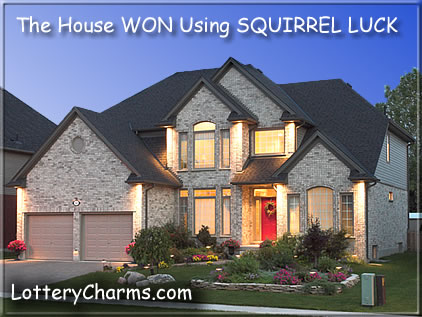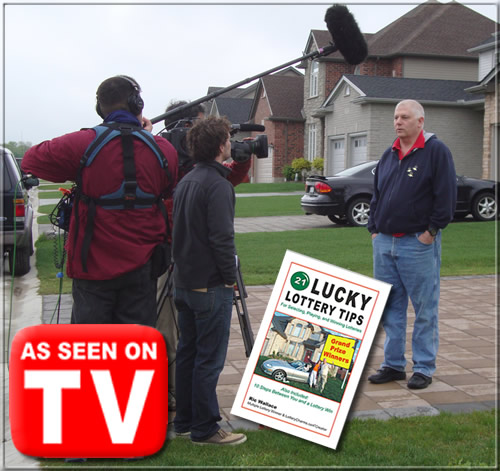 Ric Wallace was the first Canadian to be featured on TLC's The Lottery Changed My Life – a US network show about various lottery winners. Click Here to see next air date for the Country Millionaire episode.
Ric Wallace has been in newspapers and on radio, TV shows, TV news, websites in Canada and the United States.

Front page of the London Free Press – 6 times
London Free Press -various sections
CJBK AM radio – London, Ontario
AM 980 AM – London, Ontario
CBC Radio more than a dozen times – Toronto, Ottawa, Montreal, Vancouver
WAKR – Akron, Ohio with Ron Horner
A Channel News many times
Rogers Cable TV
Canadian Newspapers in Exeter, St Catherines, Milton, National Post, Globe and Mail
American Newspapers -Akron Beacon, Daily Kent Stater, Record-Courier, The Miami Herald, Philadelphia Daily News,The (Columbia, S.C.) State, The (Monterey County, Calif.) Herald, Rubbercity.com, BGnews.com, timesleader.com, Macon.com, siliconvalley.com

We also own LotterySquirrel.com.
We also purchase charitable lottery tickets that we are legally allowed to play.
We have never asked or received a cent directly from any lottery for promoting lotteries on our site (lotteries may show up in Google Ads which could generate income).
Run a registered charitable lottery and want some FREE promotion, let us know.
We have published 4 books of interest to lottery players.

The Lotto Dream eBook is a FREE Lottery eBook.
We visit and photograph lottery dream homes at our own expense.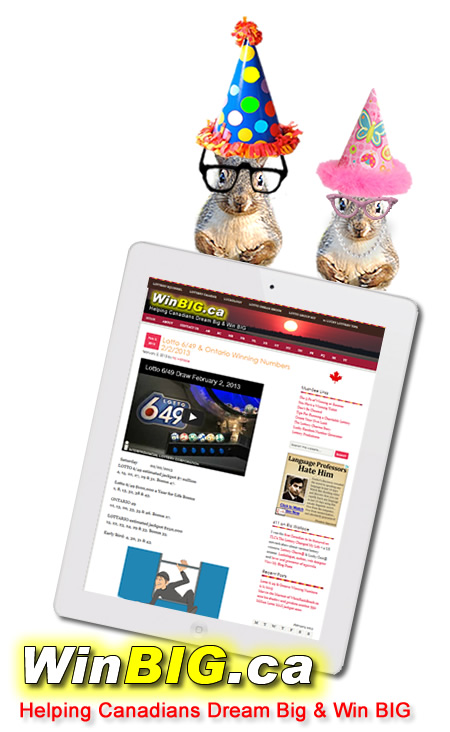 Charitable Lotteries
WinBIG.ca employs the same mascots Lucky & Sugar-toes found on LotterySquirrel.com and WhiteRockBeach.ca.
Lucky & Sugar-toes tour the 2013 BC Children's Hospital Fall 2013 Dream Lottery

[winbig-460-12]
Lucky & Sugar-toes tour the 2013 BC Children's Hospital Fall 2013 Dream Lottery Ocean Park Option
Know of a lottery not listed on our site? LET US KNOW.