Think you have the winning numbers on the next Lotto MAX draw? Consider the 8 number – $40 combination play to multiply your wins. This is also known as wheeling. The cost is high, but group playing will reduce your costs.

Advertisement
Normally you pick 7 out of 49 numbers, but with an 8-number combination you are effectively playing 8 lines on the one ticket (8 time $5 = $40). You also get 2 bonus sets of 8 numbers. Your ticket will show 8 numbers on each of the 3 lines.
For example, if you select 1, 2, 3, 4, 5, 6, 7 and 8 as your eight-number selection, the eight combinations would be:
1-2-3-4-5-6-7
1-2-3-4-5-6-8
1-2-3-4-5-7-8
1-2-3-4-6-7-8
1-2-3-5-6-7-8
1-2-4-5-6-7-8
1-3-4-5-6-7-8
2-3-4-5-6-7-8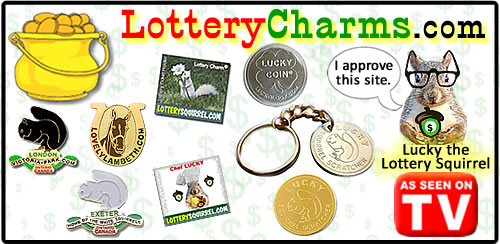 A Lucky Black Squirrel (Lottery Charm®) pin was used to hold the winning grand prize ticket for this lottery (previously known as Dream Of A Lifetime Lottery) on a corkboard in the office of LotteryCharms.com® creator Ric Wallace.
The LARGEST win using a Lottery Charm® was the grand prize win of a Dream Home Lottery in London Ontario Canada, valued at over $775,000 CDN on May 31, 2004. This was featured in the local paper, Internet, local & regional radio & TV news. This was reported in the London Free Press June 1, 2004. Lucky Sean wrote: I just wanted to let you know I ordered a lucky squirrel pin in March. I had my Lotto MAX ticket pinned to my bulletin board for the June 18th draw and I won $409,014.60. (6 out of 7 plus the bonus #) This story has been verified and the Lucky Black Squirrel pin was ordered March, 23 by PayPal
CANOE Lotteries ~ Dream home winner living a charmed life
Want to win the lottery? Tips from experts who share their stories ~ DailyFinance
How you can make your own luck ~ The Globe and Mail
There are no mystical powers to any Lottery Charm®;
the power is in the belief you put into them.