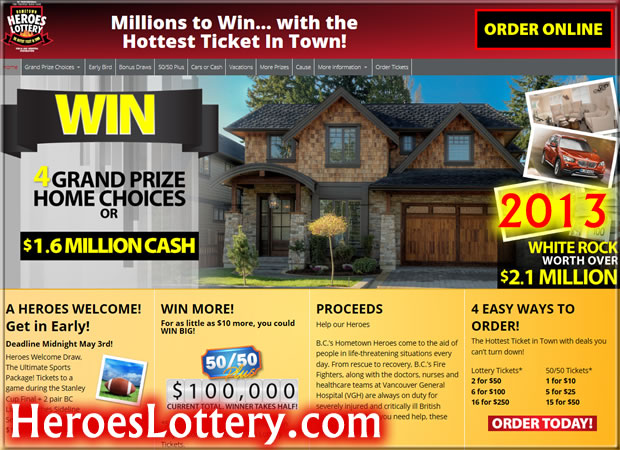 [Google-336-280]
Millions to WIN … Double the Prizes
As a LotterySquirrel.comvisitor, YOU should be the first to know about this years exciting lottery.
Choose from 4 grand prize homes or take $1.6 Million cash
Be among the first to see these amazing Grand Prize homes.
White Rock – 15442 Oxenham Avenue MAP opens Fri Apr 19th 11am – 5pm
Steveston – #2-12351 Number 2 Road MAP opens Sat Apr 20th Noon – 5pm
Vancouver – #1-2509 Maple Street MAP opens Sat Apr 27th 11am – 4pm
Victoria – #G106 – 1175 Beach Drive MAP opens Sat Apr 27th 11am – 4pm
[winbig-460-07]
All this for so little …
A Deal … 2 tickets for $50
A Better Deal … 6 Tickets for $100
The Best Deal … 16 tickets for $250 Hurry and get in on the HOTTEST TICKET in town…
Order tickets by phone at 604-648-HERO (4376) toll free at 1-866-597-HERO (4376) or in person at VGH and Grand Prizes homes.
50/50 Plus™
Jackpot can grow up to 2 Million
50/50 Plus tickets to be ordered in conjunction with your Heroes Lottery ticket order.
Winner takes half.
Chances are 1 in 390,000 (total tickets for sale) to win a grand prize BC Gaming Event License #53355
Chances are 1 in 480,600 (total tickets for sale) to win the 50/50 prize BC Gaming Event License #53356