San Jose, California arrived from google.com on "Are black squirrels rare, good LUCK, cute, etc" by searching for is a black squirrel good luck.
is a black squirrel good luck ? ? ?
Advertisement
So when you see a BLACK SQUIRREL consider yourself LUCKY.
If you hit or injure a Black Squirrel while driving because you did NOT brake for a squirrel - I would not want to be you!
If you hunt, eat, or harm a Black Squirrel in any way, that would definitely NOT bring any LUCK your way.
Some would even go as far as saying that would be SUPER BAD LUCK.
We believe the idea of Black Squirrels not being LUCKY is being spread by the WHITE Squirrels at WhiteSquirrels.ca.
The views in this posting are that of Lucky the Famous Black Squirrel featured in the above photo.
A Lucky Black Squirrel Pin (like the one shown here) was used to hold Ric Wallace's dream home lottery ticket on a cork board in his office. This ticket turned out to be the Grand Prize winning ticket ($775,000+). Ric also wears a few of these lucky pins daily on his jacket, shirt, or hat.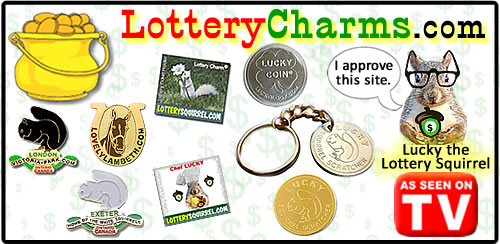 A Lucky Black Squirrel (Lottery Charm®) pin was used to hold the winning grand prize ticket for the lottery (previously known as Dream Of A Lifetime Lottery) on a corkboard in the office of LotteryCharms.com® creator Ric Wallace.
{ Comments on this entry are closed }