The gang at LotterySquirrel.com are fans of the Seattle Seahawks who are in the 2015 Super Bowl. If the Seattle Seahawks are the champions, we will ship out a FREE Lucky Coin® V2.0 in brass to anyone that places an ORDER online from Lotterycharms.com before the start of the game Sunday Feb 1, 2015. Purchasers must include a note with order OR use our contact form to delay the shipping until after the game is won. Mail orders do not qualify; only online orders.
*Limit one FREE coin per order, if the Seattle Seahawks WIN.
OFFER RUNS between January 30, 2015 & before the start of the game Sunday, Febuary 1, 2015.
This OFFER is open to any country we ship to. If the  New England Patriots win, sorry NO FREE COIN.
If we receive 100 orders during this OFFER - one purchaser will receive a
LUCKY COIN® V1.0
Single Coin – 23 K GOLD PLATED
Lucky Squirrel Scratcher
My Lucky Lottery Charm Coin
With Velour Draw String Bag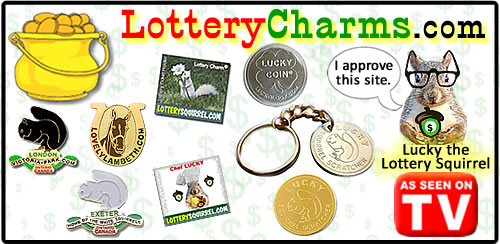 A Lucky Black Squirrel (Lottery Charm®) pin was used to hold the winning grand prize ticket for this lottery (previously known as Dream Of A Lifetime Lottery) on a corkboard in the office of LotteryCharms.com® creator Ric Wallace.
The LARGEST win using a Lottery Charm® was the grand prize win of a Dream Home Lottery in London Ontario Canada, valued at over $775,000 CDN on May 31, 2004. This was featured in the local paper, Internet, local & regional radio & TV news. This was reported in the London Free Press June 1, 2004. Lucky Sean wrote: I just wanted to let you know I ordered a lucky squirrel pin in March. I had my Lotto MAX ticket pinned to my bulletin board for the June 18th draw and I won $409,014.60. (6 out of 7 plus the bonus #) This story has been verified and the Lucky Black Squirrel pin was ordered March, 23 by PayPal
CANOE Lotteries ~ Dream home winner living a charmed life
Want to win the lottery? Tips from experts who share their stories ~ DailyFinance
How you can make your own luck ~ The Globe and Mail
There are no mystical powers to any Lottery Charm®;
the power is in the belief you put into them.
Advertisement
The Lotto Dream eBook is a FREE Lottery eBook.
{ Comments on this entry are closed }