Domain name: winbig.ca
Domain status: registered
Creation date: 2004/11/22 (Mon, 22 Nov 2004 14:34)
Expiry date: 2020/11/22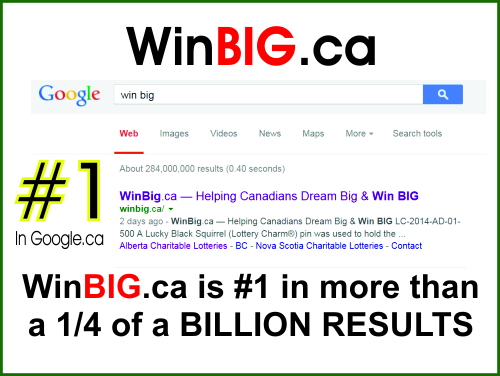 This could be the most valuable .CA domain to promote lotteries, gambling, CONTESTS, etc. Ric Wallace was the first to register this domain on 2004/11/22 and has used it to promote charitable lotteries for FREE and later added government lotteries. A family member is in need of surgery to repair a botched surgery. The surgeon we are considering is in Las Vegas NV, a story TLC might be interested in, as we might be off to Vegas to gamble on life and not slots. Any TV network willing to cover the costs can have the story – CONTACT US. WINK WINK CBC. Ric has been on CBC radio a dozen times, but never CBC TV – on his bucket list.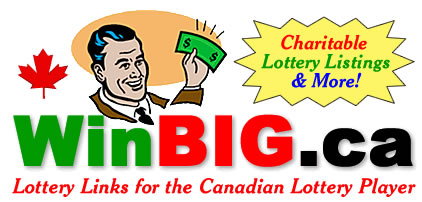 We are taking domain offers and will decide by September 28, 2014 whether a reasonable offer is worth accepting, how to proceed, or continue operating the site as registered up to 2020. Many lotteries like the Princess Margaret Lottery, Heroes Lottery, BC Children, etc have used the phrase WIN BIG.
WinBIG.ca, being an easy domain to remember, would be worth the money spent. With thousands of people returning to the site because WinBIG.ca is #1, it could be bonus traffic to your web space if you are using it.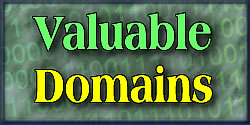 YOUR MARKETING DEPARTMENT SHOULD REVIEW THIS TIME SENSITIVE INFORMATION.
One web site (excellent.ca) is claiming the domain POKER.CA sold for $400,000 and SLOTS.CA for $206,906. We believe WinBIG.ca could be a million dollar site. WinBig.ca has never linked to online casinos because we only wanted to associate with LEGAL lotteries with a government licence. Sale of the domain will give preference to: 1) Charitable Lotteries
2) Provincial Government Lotteries 3) Anyone allowed to own a .CA domain. We are motived to find a buyer and will consider all offers submitted by September 28, 2014. If an offer is made for more than the asking price, we may contact other serious parties to give them the opportunity to raise their bids.

WHY YOU WANT TO MAX OUT YOUR OFFER
Purchase the WinBIG.ca domain for $1 Million or more and we will try to get this story featured on TLC's Lottery Changed My Life and FREE exposure for your new site. Just as WinBIG.ca is number 1 in Google for "Win Big" – Ric Wallace the owner, was the first Canadian to be featured on TLC's Lottery Changed My Life. Recently he was featured in the July 21, 2014 issue of Woman's World. You can still purchase the eBook edition in the APP STORE – NR 1429 for $1.99. Don't need any FREE exposure, we will send you a postcard from Hawaii or Vegas.
Sharpe Entertainment, the current production company for the TLC show, has shown interest in a follow up story in the past – email on file. No promises, but Ric loves being in the media and knows how to attract it.


The book 21 Lucky Lottery Tips for Selecting, Playing, and Winning Lotteries, available at the Luckology Store, may help get you closer to that lottery win dream. The ebook sells for only $14 - Click Here for more details. Ric Wallace was the first Canadian to be featured on TLC's The Lottery Changed My Life – a US network show about various lottery winners. Lottery Charm® & Lucky Coin® creator. Luckologist, author, web designer and lover and promoter of squirrels.
Ric Wallace estimates he has been seen by over 100 million people worldwide on TV, over 15 million in print and millions online. Ric has been on CBC12 times, Canoe.ca, Walletpop.com / Dailyfinance.com, TheGlobeandmail.com, National Post and MoneySense.ca to name a few. We plan on sending this info to all government lottery corporations, charitable lotteries, and major corporations offering contests or reward programs. Sites like poker.ca, slots.ca, etc will also be considered.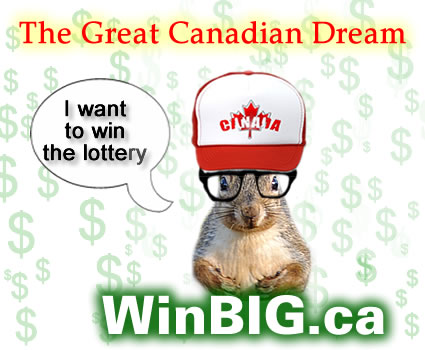 Many people believe Canadian lotteries, jackpots and sales have lost their excitement with lottery players. Higher ticket costs, poor odds** have resulted in slower climbing jackpots. The following Saturday after the first Lotto MAX* draw we logged over 6,000 visitors for one day. But Canada is in desperate need of a NEW LOTTO and WinBIG.ca could be a perfect component to bring back lottery excitement. A national lottery drawn once a week, costing only $1 with no cap on the jackpot, could quickly recoup the investment in the domain name.
Just imagine people visiting retailers saying the same thing. I want to WIN BIG. Win Big for a buck, give me $5 on Win BIG. OMG, I Won BIG on Win Big – WIN BIG HERE – unlimited marketing opportunities.
(*Lotto Max has 85,900,584 possible combinations** and is administered by the Interprovincial Lottery Corporation)
Advertisement
Any Canadian Lottery corporation could be the envy of the others, if WinBIG.ca was used exclusively in their area. For example if the OLG was using it for ONTARIO promotions ONLY, organizations like the BCLC would be kicking themselves for not coming to White Rock Beach, BC for a coffee and snapping it up. WINK WINK.
Canada's biggest coffee shop (AKA Tim's), recently in the news, could make use of the domain for their coffee cup contest.

On October 9, 2006, it was announced that YouTube.com would be purchased by Google for US $1.65 billion in stock.
Offering cash and stock options could help generate news interest and FREE EXPOSURE for purchasing WinBIG.ca.
Gas station rewards programs could acquire WinBIG.ca and could reduce the outlay of cash with a partial stock option. Shares in Petro-Canada, Shell, ESSO, Tim Horton's, Burger King would be considered after discussion with our accountant. FREE coffee for life for 2 could be a signing bonus. WINK WINK. Imagine rolling up the edge on your coffee cup and seeing WIN BIG. With the new owner with deep pockets, the domain WinBIG.ca could be used on advertisements saying "if you see WIN BIG under the rim you WIN BIG."
The opportunity to own WinBIG.ca does not come every day.
P.S. It is registered until 2020 by the original owner.
Want to purchase the domain for BIG BUCKS and do not want the sales disclosed – A new top of the line 2015 Honda CRV in Silver from Happy Honda in Burnaby, BC as a signing bonus would make us HAPPY.
I have owned the BESTofLUCK.ca domain since 2006/10/26. On Tuesday May 29, 2012 we were out for a walk on the White Rock Beach promenade, BC (in front of my home) and photographed many of the stars in the movie BEST of LUCK. I did not know they were filming. More on the story: visit BestofLUCK.ca.
White Rock Beach "The LUCKIEST place on the west coast!" and a film location for the Best of Luck movie with Jazzy B & Gippy Grewal
What are the odds or the chance of running into a singer/movie star from India at White Rock Beach being filmed for a Bollywood movie called BEST OF LUCK ? I have also owned the BESTofLUCK.ca domain since 2006/10/26.
Advertisement
Selling a domain for Big Bucks is on Ric Wallace's bucket list. In May 2014, he said to his wife, "I need some excitement, and getting in a tabloid in the supermarkets would do it, as that is something I haven't done yet." Ric did not contact any tabloid or do any online postings that he was open to the idea. He was maybe thinking The Enquirer, Star or Globe. It did not matter; he just needed one.

Simply by visualizing it, two days later he was contacted via email by Woman's World Magazine in New York City, sold at checkouts throughout North America. Long story short, he was in the July 21, 2014 issue – see enclosed. The universe or fate picked the classiest publication with a readership of about 6.8 million. Sales for 21 Lucky Lottery Tips spiked once the publication was on news stands and is continuing to see increased sales. Woman's World Magazine has kept the door open for future stories in their magazine. Buy WinBig.ca and we will see if they want the scoop on this story. Ric's ability to visualize and win a dream home got him on TLC's Lottery Changed My Life.
Ric Wallace has been contacted in the past concerning one of his ".COM" domains by the owners of PokerStars.net asking the sale price for one of his domains – no sale made (YET).
Ric Wallace currently has three ideas that could get exposure in Canada / USA and worldwide. Advertising is expensive and Ric says why pay for it, when you can get it for FREE. Make the story interesting and media will come calling. If you are considering purchasing one of his domains for big bucks, have your marketing department contact him at 604-259-0105 – leave a message if you get his voice mail.
Ric can offer unlimited marketing ideas for FREE. The Globe and Mail Business / Money section could do a follow up story from Monday, Jan. 03 2011- How you can make your own luck by DEBORAH MENSAH-BONSU. Ric has a long list of people in Canada and the USA who have helped get him featured on radio, TV, newspapers, magazines, web sites, etc and would offer them first chance for a story.
Ric is selling domains with the potential of lots of FREE exposure if you want it. The media is always looking for interesting stories. All major media sources have been contacted.
Want our domain and not in CANADA – a lawyer in Canada might be able to purchase on your behalf. Our last domain sold went through a lawyer in Ottawa, Ontario and may have been on behalf of a USA customer. Alberta has lots of good lawyers and the sale would only be subject to 5% GST. WINK WINK Please consult with a Canadian lawyer for legal advice if you are not in Canada.
The Lotto Dream eBook is a FREE Lottery eBook.
{ Comments on this entry are closed }